$50 note typo. Who's responsible or is that accountable? What's the difference?
The tale of the misspelt $50, what can we learn?
The Reserve Bank of Australia (RBA) has confirmed the existence of a printing error on the new $50 note after radio TripleM was contacted by a listener during Eddie McGuire's 'hot breakfast show' yesterday.
Shortly after a mad check of $50's by TripleM producers to confirm the caller was, in fact, correct, an Instagram post by Triple M showed the new currency under a magnifying glass, revealing the typo in the microscopic text on the note just above Edith Cowan's shoulder.
According to the RBA, the text which appears on the note was taken from Ms Cowan's maiden speech to the WA Parliament back in 1921, the word "responsibility" is missing the third "I" and says "responsibility".
The word appears three times in the excerpt, all of which are misspelled on the note in the same manner.
Edith Cowan was a social reformer who was the first Australian woman ever to serve as a Member of Parliament.
The phrase with the error in it reads: "It is a great [responsibility] to be the only woman here, and I want to emphasise the necessity which exists for other women being here.
"If men and women can work for the stateside by side and represent all different sections of the community, I cannot doubt that we should do very much better work in the community than was ever done before."
An RBA spokesperson said it was aware of the mistake and said the spelling would be corrected in the next print run, which would occur in the next few months, with the new notes being released into circulation towards the end of 2019.
"The process of designing and printing a banknote is complex and iterative," an RBA spokesperson said.
"We have strict quality assurance processes, but like any manufacturing process, errors can occur. We have reviewed our processes to remove the likelihood of such an error occurring in the future."
Personally, I find the notion that this spelling mistake just slipped through the system, quite bizarre really and even more bizarre is that the word is 'responsibility' which has caused all of this appears to been overlooked in the production process.
Surely, there must be a person or people responsible (there's that word again) for spell checking the master file before it goes to press? Maybe they don't spell check as part of their process, and I reckon they will be moving forward.
Seems to me like the good folk at RBA need an 'Accountability Coach' to provide some clarity to management about accountability and responsibility.
Let's not go too hard on them, after all, it's only a tiny typo that appears on 46 million of the $50 notes were rolled out in October last year, at a value of $2.3 billion, and the RBA said they will fix when the note is reprinted next year. Fortunately, no one was hurt or injured as a result of this mistake, which is sometimes what occurs when mistakes are made in the workplace.
This is not uncommon in business for management to struggle with the definition of 'accountability versus responsibility' and for anyone to step up to own the problem. Many make that mistake, it's just not how your average person thinks. Let's not be too surprised here, this has been going on for a very long time as we've all witnessed with the recent banking royal commission, it's in politics at every level and, don't get me started on some world-leaders, they are the worst offenders.
To me, the difference is really simple:
Many people can be responsible for helping out on a task or initiative.
But accountability belongs only to one person who will be judged on the completion of the project, task, activity or call it what you like.
Truly accountable people are very hard to find. Accountability comes from within. It is not something you are given, it can be learnt but you have to choose it – to own it. Management must understand this and ensure it's part in ongoing learning and development and added to everyone's KPI's and be regularly measured so the importance is elevated and front of mind.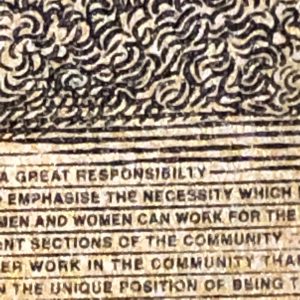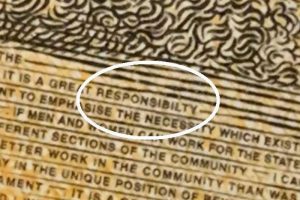 Featured Images Courtesy: abcnews.com.au on right, and the left image is my $50 in my wallet and for sale to the highest bidder? Unless of course, you're one of the millions of Australians who have one of their own.
If you need help with your business, I work with entrepreneurial business owners, executives and their teams to ensure full accountability so they can meet obligations, promises and commitments made to others and themselves. My name is Darren Finkelstein, Business Coach, Advisor and Presenter.
For more info reach out to us at questions@tickthoseboxes.com.au