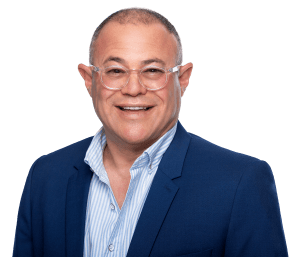 Get in touch with The Accountability Guy ®
Although I was born Darren Finkelstein, I've been known as The Accountability Guy ® for quite a while now. I enjoy being recognised for an approach which can make such a difference in people's businesses and personal lives.
I'm an Accountability Coach, Business Advisor, Mentor, Author, and Speaker whose foundations are steeped in well-credentialed experience gained throughout my own career journey as a manager, entrepreneur, and thought leader. High achievements mark my own path and great success, proving that I have both solid skills and 'walk the talk'.
Being an Advisor and Mentor
As a Business Advisor and Mentor, I deliver real-life results, helping businesses, professionals, leaders, and teams. I enjoy working with people who have an obvious need to focus more on accountability, sticking to goals, business planning, and business strategy. I've got a huge playbook and am delighted to share it with both you and your teams.
Experience
My career experience includes working at Apple Inc. for 10 years as 'Manager of Commercial Markets' during the inspirational Steve Jobs era.
I then built and ran a successful entrepreneurial business in the lifestyle industry for 15 years, until we successfully sold the business and exited.
I'm the author of four bestselling and award-winning books, and worked as a summertime presenter in Melbourne, Australia on Radio 3AW from 2014-2021. For the latter, I discuss lifestyle, the outdoors, and living life to the fullest in my weekend 'Beach 'N' Bay' reports.
With a full playbook of tips and advice for business owners and their teams, I'm able to help you and your business reach your goals. This is my story.
Contact me now, and together we'll create the story you've been aiming for, but have yet to achieve.