International Women's Day Breakfast
Women in Rotary is celebrating the 9th International Women's Day Breakfast
To date, more than 10,000 people, women as well as men, have attended the event and raised over $200,000.

This year´s topic: "A seat at the table" provides sustainable insights to boost gender parity in a high-quality manner in different areas – from the corporate sector to the personal life or in everyday life. The International Women´s Day Breakfast is a unique event that will allow people to take steps towards achieving their goals and close the gap between genders.

About Women in Rotary –  Since 1989 the Rotary Club allows for women to join and supports a culture where men and women work together to expand and build on existing strengths with the benefits of diversity to improve the lives of individuals and communities. Women in Rotary announces the launch of the International Women´s Day Breakfast on the 5th March at the Palladium Crown.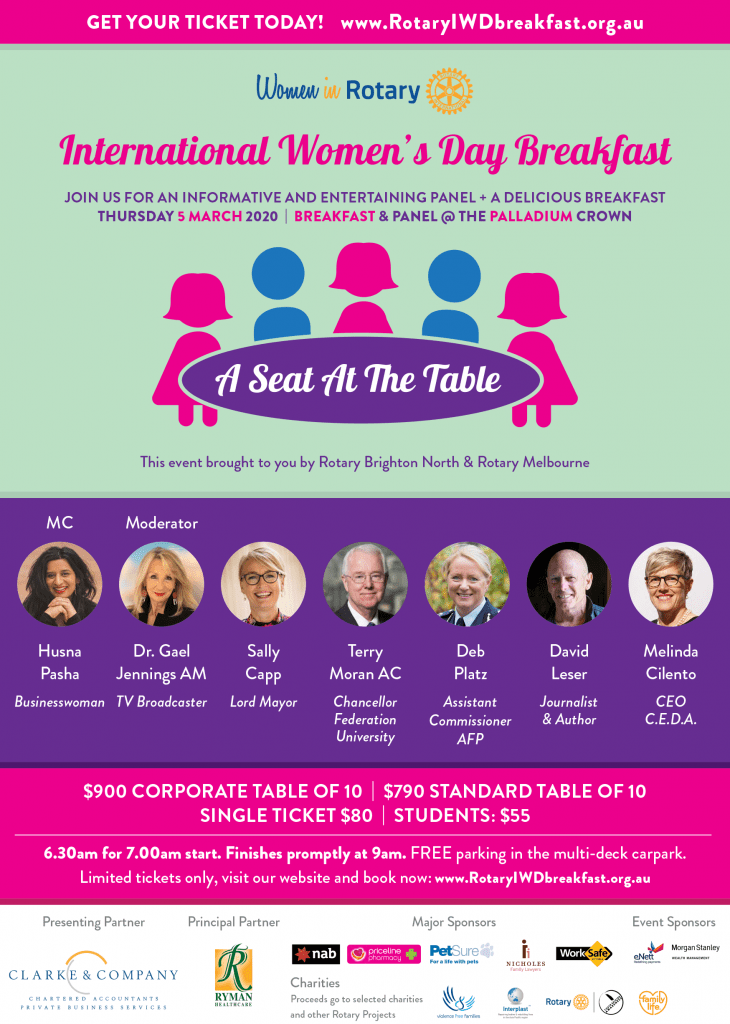 Why this event is so unique?
Showcases the importance of women in leadership roles in our community
We understand it takes both, men and women to work together to achieve a better gender balance in the workplace
Discussing the benefits of diversity to improve in the community
Thought-provoking
This year´s hot topic: "A Seat at the Table" will be moderated by Dr. Gael Jennings AM, who will lead the panellist's discussion in Q&A style.


Sally Capp: Lord Mayor
Terry Moran: AC, Chancellor Federatio University
Debbie Platz: Assistant Commissioner A.F.P.
David Leser: Author/Journalist
Melinda Cilento: CEO CEDA
Husna Pasha: Stand-up Comedian & Businesswoman


Rest assured this discussion will be engaging, informative and feisty at times. Takeaway tips will be shared to assist with achieving a better gender balance in the workplace as well as in personal life.


This is not only the largest event of its kind, with over 1200 people participating – it's also interesting and fun!


Doors open at 6.15 am with free parking. To enhance the event experience there will be a variety of interesting Rotary and Women's groups' projects on display.